Editor's Note: This is the first post in our three-part series focused on teaching children to swim with the SwimWays Swim Steps program. The steps include Swim Step 1: Water Introduction, Swim Step 2: Water Exploration, and Swim Step 3: Swim Training. Swim along with us and teach your child the skills of a lifetime!
---
National Learn to Swim Day is May 19th! Get your child ready for a summer of fun and staying cool by beginning the process of teaching them to swim! But before you do, take a look at some of these tips on how to give your baby the most positive learn to swim experience they can have!
Before you head to the pool, make sure you are fully aware of water safety practices. Review the American Red Cross water safety checklist and visit our resources page on TeachMeToSwim.com. Arming yourself with knowledge and a plan will help you to relax and feel more confident. If you are one of the many adults that did not learn to swim, sign yourself up for swim lessons before you get in the pool with your child. There are swim lesson courses available just for adults, and it's never too late to learn.
There are so many positive effects of teaching your children to swim at an early age. Studies show that children who are taught to swim by the age of 5 have increased confidence, are ahead in their cognitive and physical development and are more likely to have higher IQ's (due to an early exposure to sensory and motor stimuli in the water). Learning this skill by this age can also help in developing math skills. Finally, oral expression and social skills can also be bettered as a result of swimming.
1. Don't force it
Swim Step 1 is focused on getting your child comfortable with being in the water. It's very important that your baby want to be there. If he/she doesn't, you may choose to sit with them on the edge of the pool or a shallow step where they can play, or allow them to do so while staying within arm's reach. Then, once they've warmed up to the idea, you can bring them into the water!   
2. Getting used to the water
The phrase about dipping your toes into something, couldn't be more applicable to getting your baby acclimated to the water. The next step is to allow them to dip their toes in. Consider splashing a little water onto their stomach, too!
3. Help your baby become comfortable
Now, you can place your child in one of our comfortable and secure Baby Spring Floats (for ages 9-24 months).
The Original Baby Spring Float is designed with a large circumference and an inner spring around the outside edge for stability. You and your baby will have a fun time as they experience the wonderful feeling of floating in the water for the first time!
What makes a SwimWays Baby Spring Float
different from other brands?
Fabric-covered inflation and soft mesh seats keep babies comfortable in the water.
Dual air chambers and safety valves enhance security.
Large circumference and a patented inner spring around the outside edge of the float for added stability in the water.
Folds flat into three compact circles for easy portability in the included carry case.
Additional styles include baby floats with sun canopies, designs that allow parents and babies to float together, and baby floats with integrated toys.
The SwimWays Infant Baby Spring Float with Sun Canopy is a fabric-covered baby float for infants.  This float is for ages: 3 months – approximately 9 months (or until baby attempts to climb out or sit up).
4. Time for some more fun
Here comes the fun part! You'll want to begin encouraging your child to splash around, and maybe even splash you so that they will correlate FUN with being in the water.
Be sure to take a look at the video on Swim Step 1 training.
Note: Signing up for a Mommy and Me swim class is another great way to help get your child comfortable in the water.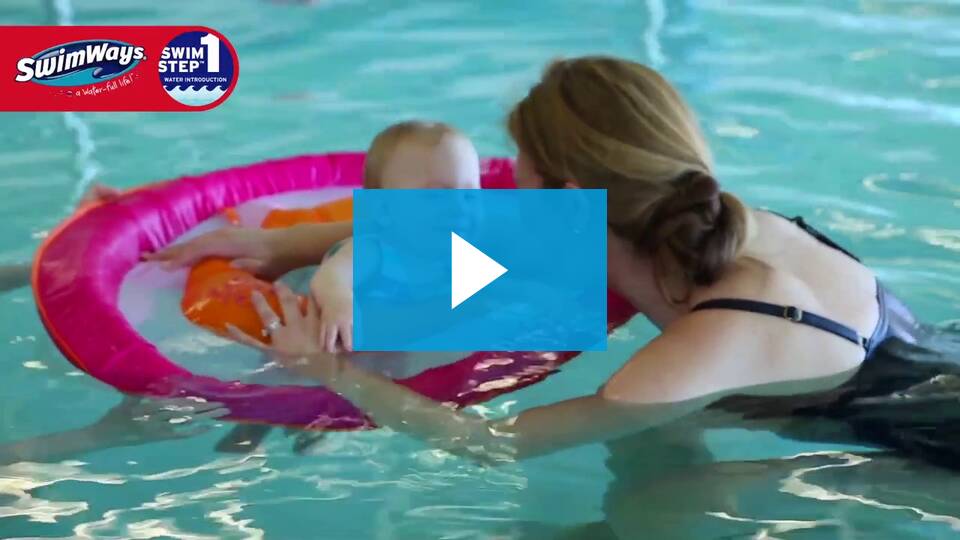 ---
*Did you know that drowning is the leading cause of unintentional injury-related death for children ages 1-4? Help turn this tragedy around by teaching your kids to swim and practicing water safety with your family. Share this infographic online to help spread the word.